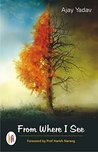 From Where I See
by
Ajay Yadav
My rating:
5 of 5 stars
The child asked with utter ignorance or innocence-sometimes ignorance and innocence are synonymous-to the emperor-'where is your cloth?'
He was able to do so-because he was fearless- human society till that date was not able to teach him to be afraid!
There is an eternal child within everybody of us who asks often-where is your cloth?
We listen and then tell that child- now go to sleep, darling….it is still not the time to wake up!
We never listen to the eternal child called human conscience- because we are afraid. If we have to listen to him- we have to stand in front of the mirror- to have a look at us- we will see our ugly faces-covered by a cosmetic facade!
Because we are humans- the only animal on earth who can think rationally!
And whose rational thinking has created all the irrationality the world!
sometimes a stormy wind dares to enter our stubborn world- in the form of that ignorant child-or innocent child-or rebel child- in whatever name you can call it – tries to give us a wake up call-'still not time to rise……'
Read the full review at
https://jayasreesown.wordpress.com/20...
View all my reviews